Abby Pittman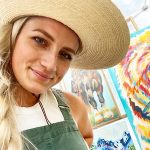 Most of my childhood I spent living outside the continental United States in Puerto Rico, China and Singapore. My dad was an international business man, and because of this our family became globe trotters. Although we were living outside of the United States, Montana was our summer home, a place to connect when back in the U.S. When my dad retired in 2009 we moved permanently to Montana, where I finished high school in the Shields Valley.
I graduated from Montana State University where I graduated with a degree in Art-Education. I decided once I graduated that I wanted to pursue a painting career and have been painting the days away since 2016.
Growing up, my name was "flower child" because of my love for bright colors and wild patterns (as well as my love for all creatures). My painting style reflects the same preferences to this day through my bold color choices, layered brushstrokes and my vivid depictions of nature and wildlife. I specifically enjoy focusing on the landscapes and animals of the Rocky Mountain region of the U.S, mostly focusing on those that are native to Montana. Preserving their environment and their lives amidst the ever-expanding development is crucial, and I hope to bring more awareness to the need for preservation of lands, natural habitats, and all of the animals who belong here.
All my pieces are named with an alliteration, as I believe it adds a humorous side and gives each painting a human-like quality, a reminder that animals have personalities, just like us. I inspire to convey joy, humor and lots of color into each of my pieces. With the world feeling so heavy, it's nice to have a bright reminder of the beautiful creatures that we share this world with.
When not painting, you can usually find me riding my horse, hiking with my dogs, or skiing in the mountains. I try to appreciate all that life has to offer. The time spent outdoors gives me great inspiration when I come back to the canvas to paint happy and joyous creatures.