Nancy Tome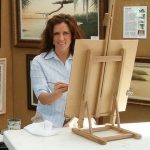 Self taught as an artist, Nancy left the public relations field to work as a freelance illustrator for the Los Angeles Zoo. Nancy has worked as a zookeeper and studied animal behavior and anatomy extensively. She has traveled all over the United States – working on coyote and pronghorn research projects in Yellowstone National Park, whooping crane release programs for Florida Fish and Wildlife and fish studies for U.S. Fish and Wildlife.
Working mainly with acrylics, Nancy combines bold colors with intense detail to depict animals in their natural environment. Her paintings are designed to capture "a moment in time" of that animal's daily life. Using research obtained from travel, zoos and private collections, Nancy compiles all her knowledge and understanding of an animal and its environment into a realistic and emotional scene. Emotion is a strong component of her artwork and appealing to the emotional side of an animal's existence, in a positive way, is an important factor to Nancy's art.
Nancy is a proud member of the prestigious Society of Animal Artists, American Women Artists and Montana Professional Artists Association. Additionally, she is one of several judges for the Federal Jr and FL Jr Duck Stamp competitions. Nancy has also volunteered as a board member for the Friends of the FL Panther Refuge for many years. Many of her award-winning originals and prints are hanging in private collections throughout the world, and at the Nancy Cawdrey Gallery in Whitefish, MT, Stravitz Gallery in Virginia Beach, VA, and David Wirth Gallery in New Smyrna Beach, FL.