Mary Michael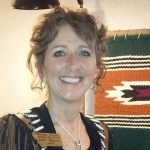 Some study art, others practice it and very few are given the gift of art. Mary was born in Great Falls, MT where she grew up in a traditional ranching and western lifestyle. After raising her family, she turned to art full time, taking classes from artists she admired.
Her artistic talent was noticed early in life, with a natural eye for proportion. While aways ready to try new art forms, she found her calling in sculpting. "It creates a challenge that just isn't there in flat work." Her schooling consists of workshops with other artists she admires and hours of hard work.
She has done not one but two monuments of Sacajawea for the Lewis and Clark Bicentennial in the state. The softness and realism of her portrayal has been remarked on and resulted in several commissioned portraits.
Mary's bronzes have won many awards in more and more prestigious shows earning her a name with the up and coming artists of Montana