Chance Tedesco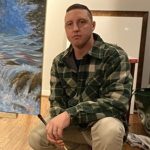 In my earlier stages of drawing and painting I came across images of paintings in books, magazines and advertisements which would simply grab and hold my attention (sometimes for hours on end).  I did not realize why these works of art could grab and hold my attention for so long until my later years as an artist. Composition, value, temperature, anatomy, lighting effects, eye magnets and focal points all became areas of study as my paintings began to mature.  It was not until my late teenage years that I had a real desire to learn even more from the iconic artists that inspired my childhood years in art. Frank Frazetta, Carl Rungius, Terry Isaac, Bob Kuhn, Robert Bateman, Charles R. Knight, James Gurney and John Singer Sargent (just to name a few) offered plenty of opportunity to dive into learning about what inspired them as artists to create the paintings that held my attention.
As a young man and seeking adventure fresh out of high school, I enlisted with the United States Marine Corp. and secured the 6048 M.O.S. (Military occupational specialty) as a flight equipment tech. Upon completing basic training, combat training, and my M.O.S. training in Pensacola FL, I was stationed with a Sikorsky 53 reserve squadron in Willow Grove Pennsylvania. In 2009 my squadron was activated for deployment to help assist in troop movement and supply in Helmand Province Afghanistan. I did not paint or draw at this time, but I do believe the experience I received in the U.S.M.C. did have an effect on my desire as an artist and my need for adventure and travel.
With every painting I try to create a sense of depth, lighting effects as well as action and movement all with a sense of texture. A good painting (in my honest opinion) is a work of art that can grab your attention immediately, hold it for some time, but also leave you thinking about the experience and aspects of studying how it was produced. I try to take experiences in the field and create a dramatized version of them in my art.  Sometimes my paintings are meant to convey a message and most of the time the goal is to communicate directly through my subject to the viewer.