Jeff Wolf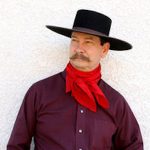 The importance of persistence was instilled in Jeff at an early age. Jeff excelled in everything he put his mind to except school. Dyslexia—virtually undiscovered at the time—made reading nearly impossible. But that didn't stop him from graduating from high school and attending three years of college on scholarships, and eventually teaching himself to read.
In high school, Jeff became a champion livestock judge and earned a silver medal at the National FFA convention, earning what was at the time the highest score ever recorded—98 out of 100—in the cattle grading division. He was also a Champion rodeo cowboy in High School, college, and a top competitor in professional rodeo, competed mainly in the bareback and bull riding events, as well as saddle bronc riding, team roping, and steer wrestling.
Through it all, art sustained him. From an early age he was compelled to create. "My gift chose me, I didn't choose it," he says. Jeff's story as a sculptor started at age five when he received modeling clay for Christmas. His hands and heart went to work to mold into the clay the world he saw around him. An early work, a buffalo carved from a bar of soap, earned his first recognition when published in the pages of Western Horseman magazine.
After retiring from professional rodeo, Jeff's desire to sculpt gradually increased, fed by those very experiences.
"If I haven't personally lived the scene, I imagine myself in the time, place, and moment and visualize what it would have been like to actually be a participant. This might involve hours of research until that image or scene is fully and clearly formed in my mind. The concept then become like a photograph imprinted in my consciousness, becomes a vivid image and begs to be given life."
In 1990, art collector Ann Heckbert discovered Jeff's sculpture at an art show in Steamboat Springs, Colorado. Ann and her husband Jim, owner of Garret Gallery, approached Jeff about showing his work. By 1991, Jeff's life as a professional sculptor was underway and has earned been his livelihood ever since. Jeff credits Jim and Ann for launching a career that has earned him a reputation as one of the finest western sculptors of our time.
Jeff's first national juried show, the George Phippen Memorial Art Show in Prescott, Arizona, earned the artist the three highest awards: Best of Show, Best in Category and People's Choice. He has won or placed in practically every juried art show he has participated in since, and may be the only living sculptor to have won Best of Show and People's Choice awards in six genres of Western art: Wildlife, Figural, Rodeo, Equine, Western, and Native American.