Cathy Toot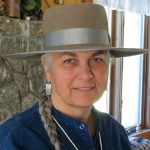 Capturing the essence of the people, wildlife and ranch animals engrained in our Western lifestyle is the special talent of artist Cathy Toot. What began as a hobby painting intricate images on gourds of all sizes has grown into a full-time, professional career as an oil painter.
Immersing herself in the western way began 20 years ago when she and her husband arrived in Ennis, MT where they embraced participation in cowboy action shooting in period clothing while playing out a Wild West scenario.
Cathy is at home in the West and is proud to be a woman of the west with a goal to keep reaching new levels with her art by always growing and traveling further with it.
Surrounded by the Western way of life and abundance of wildlife, she has endless subjects to choose from.